Solvent Recovery Like Acetone, Toluene, IPA, Ethanol, Methylene Chloride and many other inorganic and organic solvents.
Processes employed are Distillation (including azeotropic distillation), Extraction (Liquid-liquid & solid-liquid), Absorption, etc.
We take up studies for the best possibilities of recovering solvents and other important chemicals from the liquid discharges as well as gaseous exhausts.
Bromine Recovery
Bromine can be recovered from two sources :
1) From Sea Bitterns
2) From Industrial effluents
BVR offers turnkey projects for the recovery of Bromine from both the aforesaid sources.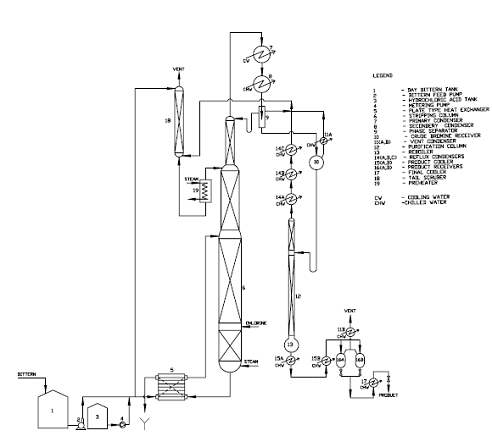 Absorption of Industrial exhaust gases like
SO2, SOx, NOx, Chlorine Cl2, HBr etc.
We offer turnkey solutions for absorption of exhaust gases after carrying out detail onsite studies. Our focus is to satisfy the environmental pollution requirement and also try to recover the exhaust gases in such forms so that they can be reused for various processes thus adding to the bottom line.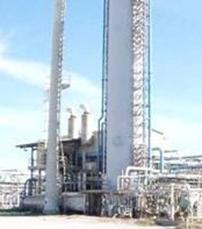 Both Adiabatic absorption and Isothermal Absorption processes are employed in order to get the most efficient output.
Volatile Organic Compounds (VOC) Removal from gaseous I air / Liquid / Water streams
The removal of VOC from gaseous streams, before they can be vented, and from the liquid / water streams before they can be released are Pollution Control measures. Environmental pollution control has now become more stringent as industries, world wide need to comply with these issues responsibly.
The removal of VOC requires competent technology and engineering capabilities, in order to obtain these compounds either for re-use or to release them off to the environment within the acceptable limits.
We at BVR work out tailor-made solutions for our clients by studying their discharges (gaseous / liquid). Various unit operations are employed by the use of right technology & engineered systems. In the process many a times besides controlling the discharge composition within the environmental limits, recover a lot of re-usable components that adds to the bottom line of their commercial realisation.
Sulphuric Acid Dilution

Sulphuric acid is a heavy chemical and finds numerous applications in the industry. It is the product of 'Contact Process' and commercially available as 98.5% (w/w) H2SO4 or stronger in the form of oleum.
However, many of the processes and applications utilizing sulphuric acid require weaker acid than this. As a result, dilution equipment is often necessary in order to meet the requirement for this weaker acid.
HCl Gas Generation :
These can be done by three different routes :

a) Sulphuric Acid Route Up to 200 Kg/Hr. Spent Acid (70% H2SO4) as by product.
b) Azeotropic Boiling Route Up to 200Kg/Hour. Spent Acid (20% HCL) as byproduct .
3) Extraction or CaCl2 Route
General Features :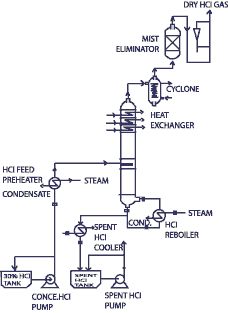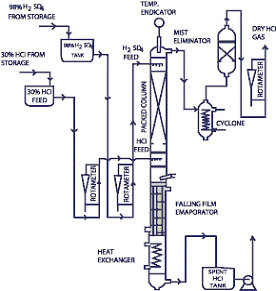 Process Design & Engineering for Distillation, Extraction, Absorption, Reaction, Separation, and other unit operations from Lab to Production scale.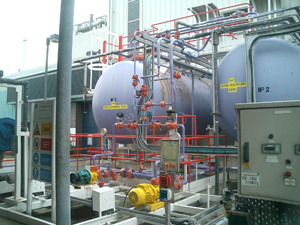 P&ID Development
Process Modelling
Heat Exchanger Design
Equipment Specifications & Datasheets preparation
Heat & Material Balance
Pump Design
Piping Design
Process Optimisation
Process Validation & documentation (3Q / 4Q)
Experience in dealing with equipment requirements, automation at lab or plant level, Onsite installation, commissioning and training Specifications Investigation and analysis / calculations : pumps, valves, flow meters, temperature/pressure measuring devices.
Preparation of documents / manuals / qualification for clients as per protocols and 3Q/4Q.
We use variety of software to simulate processes, setup and configuration of
modelling and control software.
Detailed process design PFD, BFD, Mass Balance, preparation of Equipment datasheets, Basis of Safety study – for new product launch- scaling up from Lab to Pilot scale before final production.
Heat, Mass balance, HYSYS Simulation, Vessel/Separator, Columns, Pumps, Heat Exchanger sizing & design.
Project Management, Process Design, Commissioning, Equipment Maintenance, Process Monitoring, Testing, Validation (as per the standard procedures), Plant Data Monitoring, Process Software Troubleshooting, Maintenance Life Plans, HAZOP, Basis of Safety study , SIL etc. , Awareness of H&S regulations, CDM Regulations, API, BS-EN, European Directive Standards, Awareness - HAZOP
Equipment Condition Survey, Capex Plan Estimates