Standard Units/ Assemblies are multi-purpose modular units having operational flexibility. These units have been standardized by incorporating all basic & essential functional features such as heating, stirring, condensation, fractionation, cooling etc. for multipurpose use. Therefore, though termed "Standard Units" from constructional viewpoint they actually serve as "Flexi Units" from utility viewpoint.
These units find use in educational institutions, R&D centers and industries. They can be conveniently and quickly modified according to specific process needs due to modular construction, Borosilicate glass offers additional benefits of universal corrosion resistance, visibility and cleanliness.
These equipments may be used in simple laboratory scale pilot plant to large commercial scale production for various applications like Distillation, Absorption, Reaction, Evaporation, Mixing, Extraction etc.
A few units, which are used in general are described below, we can undertake projects as per customer requirements right from idea generation, design, detail engineering and fabrication to commissioning.
Reflux Reaction cum Distillation Unit :
Utility :
This is an all-purpose batch unit, which is operated at atmospheric pressure or vacuum.
Process :
Heating bath heats and evaporates the contents of the vessel, the stirrer keeps on agitating and mixing them to avoid heat spots. Vapours enter the fractionating column and then the condenser through reflux divider, and get condensed. The condensate is then cooled by a product cooler and collected in a receiver.
Main Components :


A spherical vessel

Heating bath / Mantle

Packed Column

Stirrer Drive Geared Motor

Coil condenser

Reflux divide r

Product cooler

Receiver with drain valve.

Capacity :
Available in vessel size of 20, 50, 100 and 200 Litres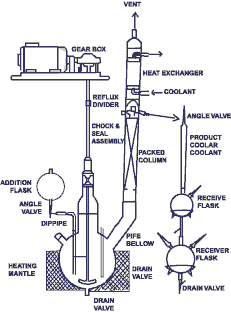 Distillation Assembly over Glass Lined Reactor :
Important Components are Packed Column, Reflux Divider, Product Cooler, Valves, Teflon parts etc.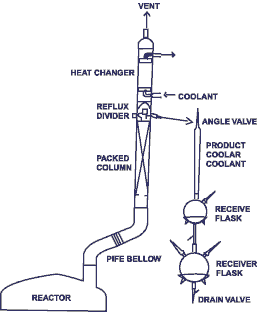 HCL Gas Generation Unit - Azeotropic Boiling Route :
AZEOTROPIC BOILING ROUTE Up to 200 Kg./Hour. Spent Acid (20% HCL) as byproduct · Moisture Content Less than 500 ppm.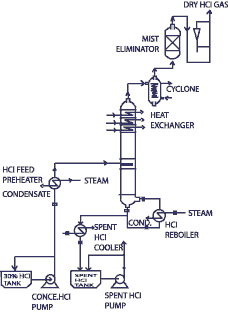 HCL Gas Generation Unit - Sulphuric Acid Route :
SULPHURIC ACID ROUTE · Up to 200 Kg / Hr. Spent Acid (70% H2SO4) as byproduct. Moisture Content Less than 500 ppm.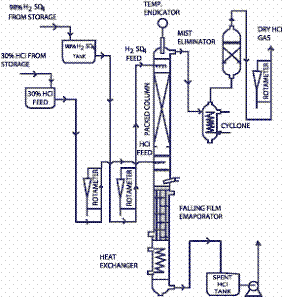 From Industrial effluents (NaBr / KBr / HBr) and From Sea-Bittern.
Available up to 600 mm Diameter column assembly.
Purity : 99.5% w/w (Min.)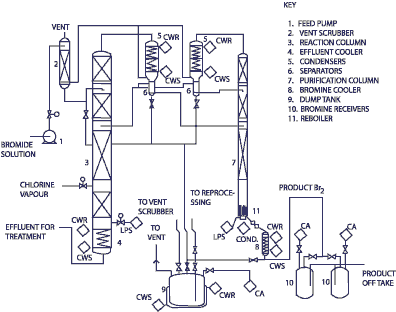 Absorption System (HCl, HBr, Cl2 , SO2 , etc.) :
The system consists essentially of a Falling Film assembly known as the cooler-absorber, a packed tail gas scrubber and interconnecting piping.
Size : Upto 600mm Shell Diameter.
Capacity for HCl gas absorption : Up to 2700 Kg/Hr. ; Acid Output 30% HCl 9000 Kg/Hr.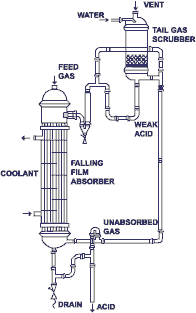 Condensation Assembly over Glass Lined Reactor(GLR) :
Condensers can be Shell & Coil type as well as Shell & Tube type as per specific requirements. We can take up sizing requirements of the condensers & heat exchangers depending on the specific products handled in the GLRs and available utilities.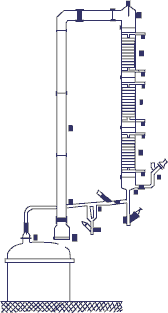 _______________________________________________________________________
MULTI-STAGE MIXER SETTLER ASSEMBLIES

LIQUID-LIQUID EXTRACTION UNITS

SOLID-LIQUID EXTRACTION UNITS
_______________________________________________________________________
Besides our team of skilled glass blowers can produce a wide range of glassware cost effectively maintaining quality aspects consistently as per required specifications. We practice latest techniques for product & process quality control like regular & systematic calibration of instruments, periodic & preventive maintenance of machines, jigs & fixtures, Statistical Quality Control (SQC) techniques etc. in our production system. These allow us to maintain a high level of production efficiency along with a consistent quality.

We can work with you at all stages of your glass apparatus or component design. If your requirement demands we shall produce CAD drawings from your initial sketches before producing a proto-type for your approval. We believe close coordination is an essential part of product development
Our Technical team would be glad to attend to your further queries on all the above mentioned units as well as any other special requirement you might have to satisfy your process needs or glass item requirements. Please feel free to contact us with all your needs & queries.